A pattern on Ice on the frozen lake "Eibsee" near the famous Zugspitze in Germany.  Changing periods of freezing and melting created fascinating patterns on the frozen surface of the lake. In Winter 2012/2013 there were both warm and cold days. In some areas of the lake the ice looks very solid, but in some areas the ice is very thin.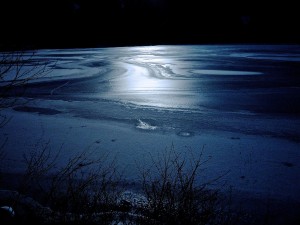 The lake is nearly 1000 meters above sea level. Climate conditions are extreme. Certainly, the fact that the lake is very close to the giant rocks of the highest mountains in Germany does play a role. For some time in winter, some areas of the lake get only very little sunshine. There might be also undercurrents in the lake which play a role in the creation of the pattern on ice.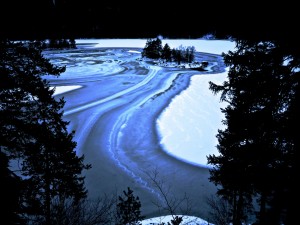 Image processing purposely altered the images, in this case, to make the patterns on the ice more significant:
Muster auf dem Eis des gefrorenen Eibsees nahe der Zugspitze in Deutschland. Wechselnde Perioden von kaltem und warmen Wetter schufen diese faszinierenden Muster auf der Eisoberfläche. Im Winter 2012/2013 gab es sowohl viele kalte wie warme Tage. In einigen Bereichen des Sees sieht das Eis sehr stabil aus, an anderen Stellen dagegen sehr dünn und fragil.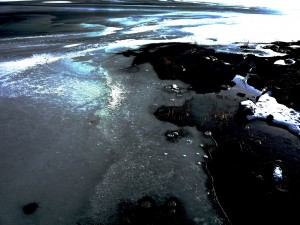 Der See befindet sich fast 1000 Meter über dem Meeresspiegel. Das Klima hier ist extrem. Sicherlich spielt auch die Situierung des Sees sehr nahe an den gigantischen Felsen von Deutschlands höchstem Gebirge eine Rolle. Für einige Zeit im Winter bekomen bestimmte Teile des Sees dadurch sehr wenig Sonnenlicht. Möglicherweise spielen aber auch Strömungen im Wasser eine Rolle bei der Entstehung dieser Muster im Eis.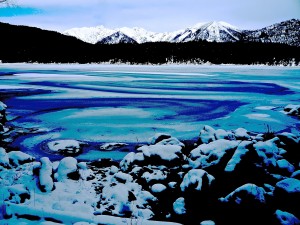 Die Bilder wurden absichtlich bearbeitet, so dass die Strukturen betont sind.