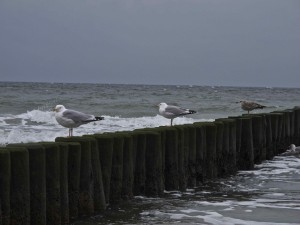 This might have been a surprise for early tourists visiting the coastline of the Baltic Sea on March 2 in Mecklenburg-Vorpommern: The day was the first sunny day in Germany after the "darkest winter" since weather-research began its systematic statistics all over the country. Indeed there was a wonderful bright day with strong sunlight and a radiant blue sky in the countryside not more than 30km away friom the coast.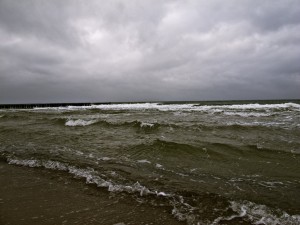 However low-hanging clouds were chasing over the sky at the coast and wind gusts reached over 50km/per hours as announced by the weather service. This isn't even a storm but the waves were impressing. It was a reversal of a weather-pattern we experience often in the summer: sometimes its cloudy but as nearer you get to the sea the bigger the chance the sun will shine. Not this time.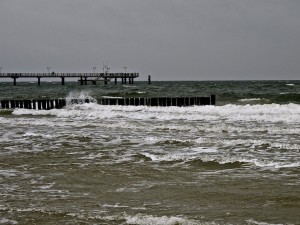 Pictures were taken at Graal-Muritz which is close to the prominent Darß-Coastline. Unusual this is more or less a west-coast whereas most of Germany's baltic sea coast is an East-Coast. Therefore it looks a bit more like the intimidating Northern-Sea rather as the usual more peaceful Baltic Sea.
However the Baltic Sea should be respected as any sea or lake. You may not find murderous monster-waves but sailors know about the notorious short-waves of the Baltic Sea. Furthermore storm-floods are not only an issue of the West-Coast-Line of the Northern Sea in Europe:  November 13, 1872 a big storm-flood happened and did tremendous destruction. Storm-floods in the Baltic Sea affecting Germany and Denmark happen usually with a North-East-Wind blowing for a longer time and for example driving the water inwards into the fjords like the Flensburg-fjord.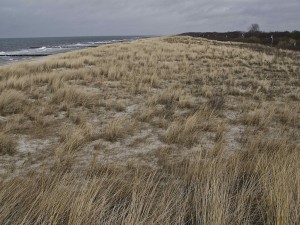 Today climate researchers are warning that more dramatic storm-floods might be happen in the future due to climate change and a rising-sea level. That's why there is a lot of attention given to protect the natural dunes at the coast-line of Mecklenburg Vorpommern.
March 2 wasn't any reason for concerns. It was a great day to enjoy nature before the shores are invaded in summer. The video below shows some impressions from a walk at the shore in Graal-Müritz:
Dies könnte einige frühe Touristen, die die Mecklenburg-Vopommersche Ostseeküste am 2 März 2013 besuchten, überrascht haben: Der Tag war der erste Sonnentag in Deutschland nach den "dunkelsten Winter" seit Beginn flächendeckender Wetteraufzeichnungen. Tatsächlich war es ein wundervoll heller Tag mit starkem Sonnenlicht und einem leuchtenden blauen Himmel nicht weiter als 30km landeinwärts.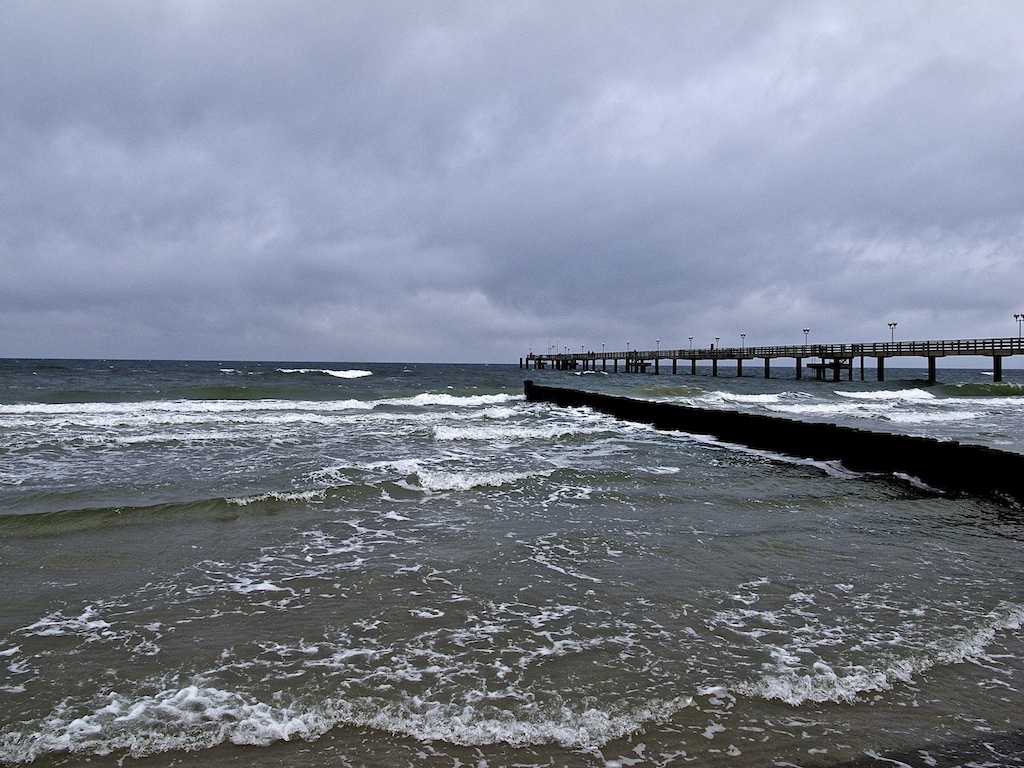 An der Küste jedoch jagten niedrig hängende Wolken über den Himmel und Windböen erreichten, wie vorhergesagt, über 50km/h. Das war zwar noch kein Sturm aber die Wellen waren schon beeindruckend. Es war die Umkehrung eines Wettermusters, wie man es vom Sommer manchmal her kennt.  Da kann es im Landesinneren bedeckt sein, aber je näher man der Küste kommt, umso größer waren die Chance für Sonnenschein. Nicht so dieses Mal.
Die Bilder wurden in Graal-Müritz nahe der prominenten Darß-Küstenlinie gemacht. Ungewöhnlich ist, das es mehr oder weniger eine Westküste ist, während Deutschlands Ostseeküstenlinien meist Ostküsten sind. Deshalb sieht es hier fast wie an der respekteinflössenden Nordseeküste an so einem Tag aus und nicht so sehr wie an der eher friedlichen Ostsee.
Jedoch sollte die Ostsee wie jedes Meer und jeder See respektiert werden. Man wird zwar vielleicht keine Monsterwellen hier erleben, aber die kurzen, harten Wellen der Ostsee sind bei Seeleuten berüchtigt. Außerdem sind Sturmfluten nicht nur eine Gefahr für die Westküsten an der Nordsee in Europa. Am 13. November 1872 geschah eine zerstörerische Sturmflut, die im Gedächtnis blieb. Sturmfluten der Ostsee, die Deutschland und Dänemark betreffen, geschehen üblicherweise im Zusammenhang mit einem anhaltenden Nord-Ost-Wind, der zum Beispiel das Wasser in die Buchten und Fjorde, wie die Flensburger Förde hineintreibt.
Heute warnen Klimaforscher vor einer zunehmenden Sturmflutgefahr durch den Klimawandel und den steigenden Meeresspiegel. Deshalb wird hier in Mecklenburg Vorpommern dem Schutz und dem Erhalt der natürlichen Dünen große Aufmerksamkeit gewidmet.
Der 2. März war jedoch kein Tag für solche Sorgen. Es war ein schöner Tag, um die Natur vor dem sommerlichen Touristenansturm zu genießen.
<⁄body>